Back To Menu
French Dip
Served with one sideboard.
(Select 1) Sideboard:
Garlic Mashed
BBQ Beans
Potato Salad
Cole Slaw
Mac Salad
Green Salad
French Fries
(Optional) Dressing:
Ranch
Blue Cheese
Italian
Caesar
Have you tried this item? Pop it!
Help other diners know what to expect by sharing your experience.
5 people have popped this item
Photo Gallery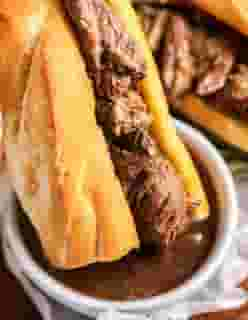 Back To Menu
French Dip
Served with one sideboard.
(Select 1) Sideboard:
Garlic Mashed
BBQ Beans
Potato Salad
Cole Slaw
Mac Salad
Green Salad
French Fries
(Optional) Dressing:
Ranch
Blue Cheese
Italian
Caesar
  Back To Menu